Welcome to official Akita Latvia kennel "Amber Yule"!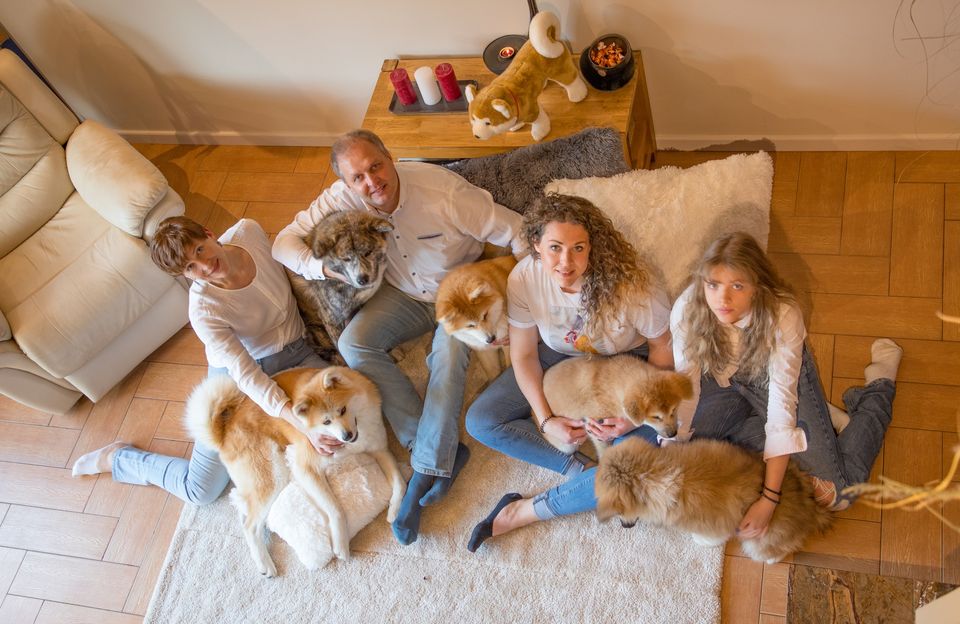 Amber Yule is a small family akita kennel where all our dogs are family members.
We are proud that:
We have enough time to raise, care for and train all our dogs in a family environment
We are recognized as one of the most successful and stable FCI akita kennels in the Baltics
We stand out not with the reproduction of numerical animals, but with outstanding representatives of their breed, who create a correct idea of what a real akita is.
Amber Yule is registered in AKIHO - a society based in Japan, which monitors the preservation, development and authenticity of the Akita breed, so as not to lose the typical temperament, character and exterior (physical) characteristics of the Akita
Amber Yule is recognized as a full member of AKIHO
Our akitas have undergone eye health examinations, hip and elbow joint health examinations, diversity and tooth enamel genetic tests
Our dogs are descendants of famous and legendary Akita from well-known Japanese and European kennels
Our bred dogs have won internationally recognized titles - World Winner 2014, Akita Cup Winner 2015, Europe Junior Winner 2015, Akita Cup Winner 2018,
Baltic ViceWinner 2019,World Winner 2021, World Hope 2021, European Winner 2021, Grand Prix 2021 Winner - Best kennel, International Show Champions (CIB), Latvian TOP 2020 akita, Latvian TOP 2020 kennel (II) and many others.
We are proud of what we have done and ready to share our experience.
We have confidence in what we do!
History of our origin
Story about akita kennel AMBER YULE started in year 2009, when one of the first glamorous FCI akita travelled to Latvia - Yule Roal. Red beauty quickly warmed our hearts with her aristocratic behavior and heartfelt love.
With emergence of our new family member, our daily lives change. Before that we only had working group dogs. Whit their behavior, attitude and training everything was clear. Akita quickly changed our view on all these matters. We began to learn wisdoms with great deal of interest, using variety of teaching methods. Results appeared very quickly. We found approach to independent and strong akita character. We learned to communicate and come to understandment, while fully enjoying the process.
Collaboration between Akita and owner is a process with high positivity and motivation level. If you are ready to treat akita with respect, then Akita can be your companion.
The process of learning about akitas was so fascinating, that we devoted lot of attention for training. With Yule we excellently passed BH exam (international training course - dog in city), IPO-R E certification (dog lifeguard) and participated in agility competition. With this we assured that akita is excellent dog companion and can very well do any job together with owner.
So, what we are proud of? Most of all that our kennel is relatively small, and we have time to raise, nurture and teach them in high quality and in family environment. We are proud that our dogs are family members, not only glamorous dog show exhibitors. For our kennel dogs we always do health checks for eyes, hips, elbows and also genetic tests. We are certain about what we are doing. We don't breed dogs and don't plan breeding before dog mommies have recovered from puppies (no more often than once per year).
With full certainty we can tell, that we have done everything, so our dogs and their puppies have excellent health. We have done most precise couple selection.
We are socializing our puppies from first day. All puppies are accustomated to people hands, noises, sounds, feelings, movements on different materials and surfaces. When we give puppies to the new owners, we are certain, that puppy is ready to go to new home.
We are known as one of the most successful and stable FCI akita kennels in Baltics. We stand out not because of quantity, but with outstanding akita breed specimens, who are showing true representation about how akita should be.
Our kennel dog Arbor Yule became Akita Cup winner in 2015 as best akita breed dog in world and won World Winner title in 2014.
Amber Yule Haiku Go is Europe New 2015 title winner.
Amber Yule Kazuki placed 4 in Akita Cup in baby class.
Our kennel dog Daichi Yuleyogi is regular Agility participant in A3 class.
Amber Yule passed BH exam and IPO R-E attestation. She is working in Bezests.lv as dog lifeguard.
Megapolis Style Yogi Tarou - BH exam
Arbor Yule - BH exam
Densetsu Yuleyogi working as dog lifeguard
We are proud about our work and we are ready to share our experience!